Blub Keo Nixie Clock
Using a Dalibor Farney made R|Z568M, the Blub Keo is a USB powered nixie tube clock which displays the time using sequential digits which are illuminated through ionized neon gas. The name of R|Z568M (R=Resurrection) refers to one of the most beautiful nixie tubes made back in the 1960's – a Z568M. A blend of solid machined aluminium, stainless steel, hand formed glass and neon, Keo is a delicate fusion of art, design and engineering. With a warm orange glow reminiscent of a vintage amplifier valve, Blub Keo's display features a hand formed glass 'bulb' in which a series of very fine stainless steel numerals are arranged in a stack and illuminated one after the other to show the time. The display produces no heat, no noise, uses very little energy and celebrates what is arguably the most beautiful way of displaying numbers.

Hand-formed glass by Dalibor Farny
Assembling the digit stack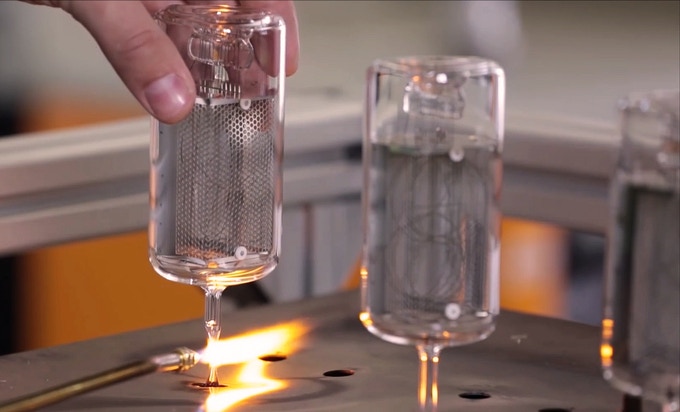 After gas filling
Blub Keo in bronze color
Close-up detail of the glass and stainless steel display

Blub Keo's 'nixie' display is the largest of its kind currently in production, and is meticulously hand assembled, gas filled and tested to ensure the highest quality and function. In fact, the display has been engineered and assembled with such care and precision that we will guarantee its function for 10 years! However, in the very unfortunate event your Keo is dropped onto concrete from a great height, your dog kicks it off the shelf or you smash it off your nightstand with your flailing arms in a desperate attempt to get up for work on a Monday morning, don't worry! It is easy to plug in a replacement display and takes only a few minutes.


Top view detail of Blub Keo
How does Keo show the time?

Reading the time with a one digit display might seem unnatural, but Keo makes it a very simple and intuitive process. For example, 7:35am displays sequentially as '0… 7… 3… 5'.


Keo showing 7:35am in the 'Fade' transition mode

Clever and compact electronics drive the display, providing all the features you would expect from a quality desk clock including the time in 12hr/24hr format, date, temperature, alarm, auto sleep/wake functions, selectable backlighting colour and brightness, display modes, and also a handy remote control for easy setup.


The remote makes setting up Blub Keo a breeze

To make it even easier, Blub Keo is powered via mini USB which means you can power it from your computer, laptop, phone charger or pretty much anything with a USB port (no chunky wall adapters needed!). Keo will hold its time for up to 6 weeks without power too.


Powered via Mini USB

The machined aluminium base is available in 4 different colours to suit your taste: Bronze, Aluminium, Space Grey and Black.


4 colours to choose from!
Bronze, Aluminium and Black (Space Grey not pictured)
Close-up of the precision machined bases
How big is Blub Keo?
Blub Keo is a little taller and wider than a regular soda can

The video below, by tube maker Dalibor Farný, details the extensive glass forming processes and intricate hand assembly techniques that go into every Keo tube clock display. The display is a work of art, perfected through countless hours of perseverance and exceptional workmanship.
You Might Also Be Interested In...